Climate Neutral Data Centres by 2030
Climate Neutral Data Center Pact
A self-regulatory initiative to ensure climate neutrality of data centers by 2030, developed by CISPE, the European Data Centre Association (EUDCA), other trade associations and data centers market players with the support of the European Commission.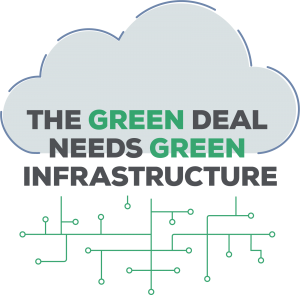 More than 70 data centre operators and 22 associations have signed the Pact and committed to the self-regulatory initiative.
This means that operators responsible for more than 90 per cent of the data centre capacity in Europe are working together to deliver real progress on climate neutrality. No other industry has come together in this way to define and implement effective climate neutral measures.
Main achievements to date
Five focus areas have been identified, with the European Commission, as essential for climate neutral data centres: Energy Efficiency,
Clean Energy, Water Conservation, Recycling, Reuse and Repair of equipment, Circular Energy Systems 

In its first policy paper presented to the Commission in June 2021 the Pact set out a range of regulatory and policy recommendations needed to build a green cloud and data centre industry for Europe

At its most recent meeting with the Commission the Pact presented a white paper with detailed water conservation measures and established the goal of 0.4l/kWh as the limit for water use in all data centres by 2040