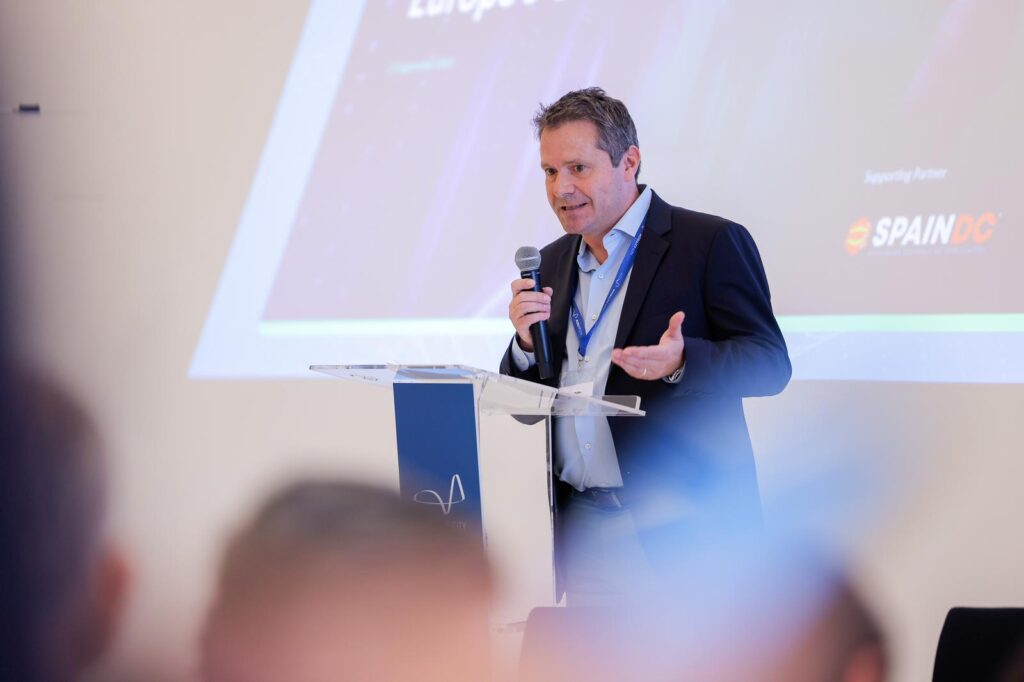 This week, after a welcome visit of the Goya Museum in Zaragoza under the auspice of the President of the Aragon Region, Jorge Azcon, and Jose Luis Rodrigo Escrig, CEO of the IberCaja Foundation and main Museum benefactor, a group of European and international operators of leading data centres toured a new windfarm operated by Repsol – which helps decarbonise the Spanish economy and power digital infrastructures such as Amazon Web Services' (AWS) data centre operations in Aragón.
After completing their tour and leaving their safety helmets at the wind farm, over 150 senior government and industry representatives officials gathered in the futurist bridge designed by architect Zaha Hadid and home to the Zaragoza future mobility forum to discuss the essential role that data centres play in driving Spain and Europe's twin green and digital transitions. Convened by CISPE and hosted in partnership with the EUDCA and Spain DC the event was co-sponsored by AWS and opened by President Jorge Azcón.
Through the contributions of experts, policy makers and those operating data centres, it became clear to all present that the twin transformations are inextricably linked.
As Francisco Mingorance, Secretary General of CISPE commented;
"In a world where sustainability and digitalisation are more intertwined than ever, data centres serve as the engines powering this transformative journey. Cloud and data centres are the building blocks not only of the digital services increasingly central to the lives of people everywhere, but also to the innovations, science and thinking needed to build a green and sustainable economy. Neither digital not green transformations are possible without them."
As Matt Pullen, EVP, Managing Director Europe, CyrusOne and EUDCA Board Member, stated:
"The Climate Neutral Data Centre Pact has brought together over 120 signatories, representing over 75% of the industry. As the world increasingly relies on data centres to support digitisation, our commitment is to continue raising the bar on transparency within the data centre sector. We are convinced that it will lead to greater public awareness of our sustainability efforts and facilitate informed decision-making. Therefore, it is paramount that regulatory frameworks are established to ensure a level field for the whole sector. "
The first panel built on this theme. Panellists Pauline Fournols, Advisor – Energy & Environment, WindEurope; Michael Schultz, Head of Division for general issues of national and international digital policy, digitisation and sustainability, German Federal Ministry for Economic Affairs and Climate Action;      Joseph Cummins, Principal Officer, Climate Action & Economic Infrastructure Unit, Irish Department of Enterprise, Trade and Employment; Carol Yan, Energy Transition & Renewables Lead (EMEA), Amazon Web Services and Carlos Gutierrez Sanchez del Rio, Head of Technology, Repsol Renewables each had insightful perspectives on how cloud-based digital technologies contribute to Europe's efforts to decarbonise the EU's economy.
As Manuel Giménez, executive director of SpainDC, remarked:
"In Spain we are sustainable natives, as evidenced by the advances in sustainability that the data centre sector is making in our country. What is more, by signing up to the Climate Neutral Data Centre Pact we have become the first sector to commit to the European Green Deal, which aims to ensure that European data centres are climate-neutral by 2030".
Nikolaos Kontinakis, Policy Officer, Energy Efficiency Unit, DG ENER, European Commission, speaking at the start of the event, reiterated the importance and need for a fully harmonised transposition in EU Members States to create a level playing field across the EU.
Drawing on recent research and analysis, Mai Barakat, Datacenter Services & Infrastructure – Research Analyst, 451 Research, said:
"If smaller data centres of 100kw or more could improve their efficiency to meet the Climate Neutral Data Centre Pact Power Usage Effectiveness goal of 1.4, eleven terawatt hours of electricity consumption – enough to power a city the size of Hamburg for a year would have been saved in 2021."
With the current reporting threshold of the Energy Efficiency Directive being set at 500 kw there could be a lost energy savings opportunity of ~5 terawatt hours, as many on-premise and enterprise DCs would remain uncaptured.
Dr. Ron Lipka, Head of Division for Efficiency and Heat in industry and commerce, German Federal Ministry for Economic Affairs and Climate Action; Matt Pullen, EVP, Managing Director Europe, CyrusOne and EUDCA Board Member and Jens-Peter Feidner, Managing Director Germany, Equinix joined Nikolaos Kontinakis and Mai Barakat on the second panel discussing important guardrails and opportunities in transposing the DC Transparency Regime that is included in the  Energy Efficiency Directive into national legislation across EU Member States.
Matt Pullen concluded;
"Renewables are the biggest issue, not only for the industry, but also for Member States. It is imperative to foster an environment which enables corporate investments in renewables and accelerates their integration into European grids."
Overall, the event underlined the link between efficient, climate neutral data centres and the sustainable, digital economy Europe strives for. It is no secret that the demand for data centres and cloud-enabled technologies will continue to rise over the coming years. This is why the data centre industry as a whole has taken a leading role in sustainability by way of advancing their own decarbonisation progress and supporting other industries to become more sustainable.   Transparency as well as efficiency is already deeply embedded in Europe's data centre sector. Yesterday's event reiterated the work still needed, but also the sector's desire to continue to lead on this vital journey.