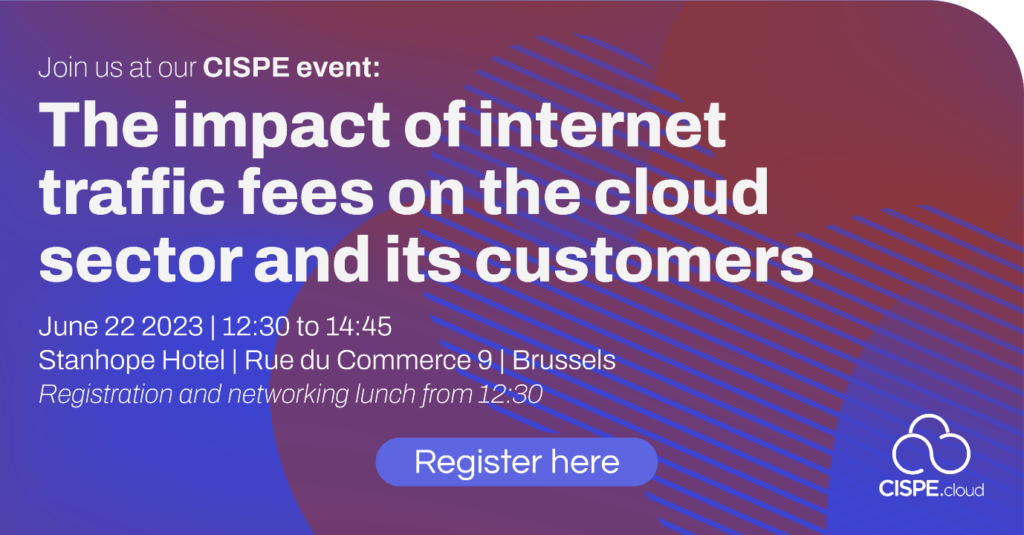 On 22 June, CISPE will hold an event the proposal by ISPs to introduce an internet traffic fee on large content providers for financing investment in network infrastructure.
The event will provide an opportunity to explore how the much discussed "sending-party-network-pays" model could specifically impact European cloud services and content delivery networks (CDNs).
Amidst the ongoing Europe's digital connectivity debate, CISPE aims to bring together a panel of expert voices to shed light on the unique characteristics of the cloud and CDN sector, as well as their customers.
The event will be available both in-person and online, to allow wide participation. If you would like to register, please use this link or click on the button below.

PROGRAMME
12:30 – Networking Lunch and registration
13:00 – 13:10 – Opening Remarks
Francisco Mingorance, Secretary General, Cloud Infrastructure Services Providers in Europe (CISPE)
13:10 – 14:45 – Panel Discussion
Speakers:
Konstantinos Masselos, Chair, Body of European Regulators for Electronic Communications (BEREC)
Bart J.R. van der Sloot, Managing Director, Leaseweb Network
Carlos Rodriguez Cocina, Director EU Affairs, Telefonica
David Abecassis, Partner, Analysys Mason
Petra Arts, Senior Manager Public Policy, Cloudflare
Moderator: Jennifer Baker, Freelance Journalist and Presenter
We look forward to having you at the event.