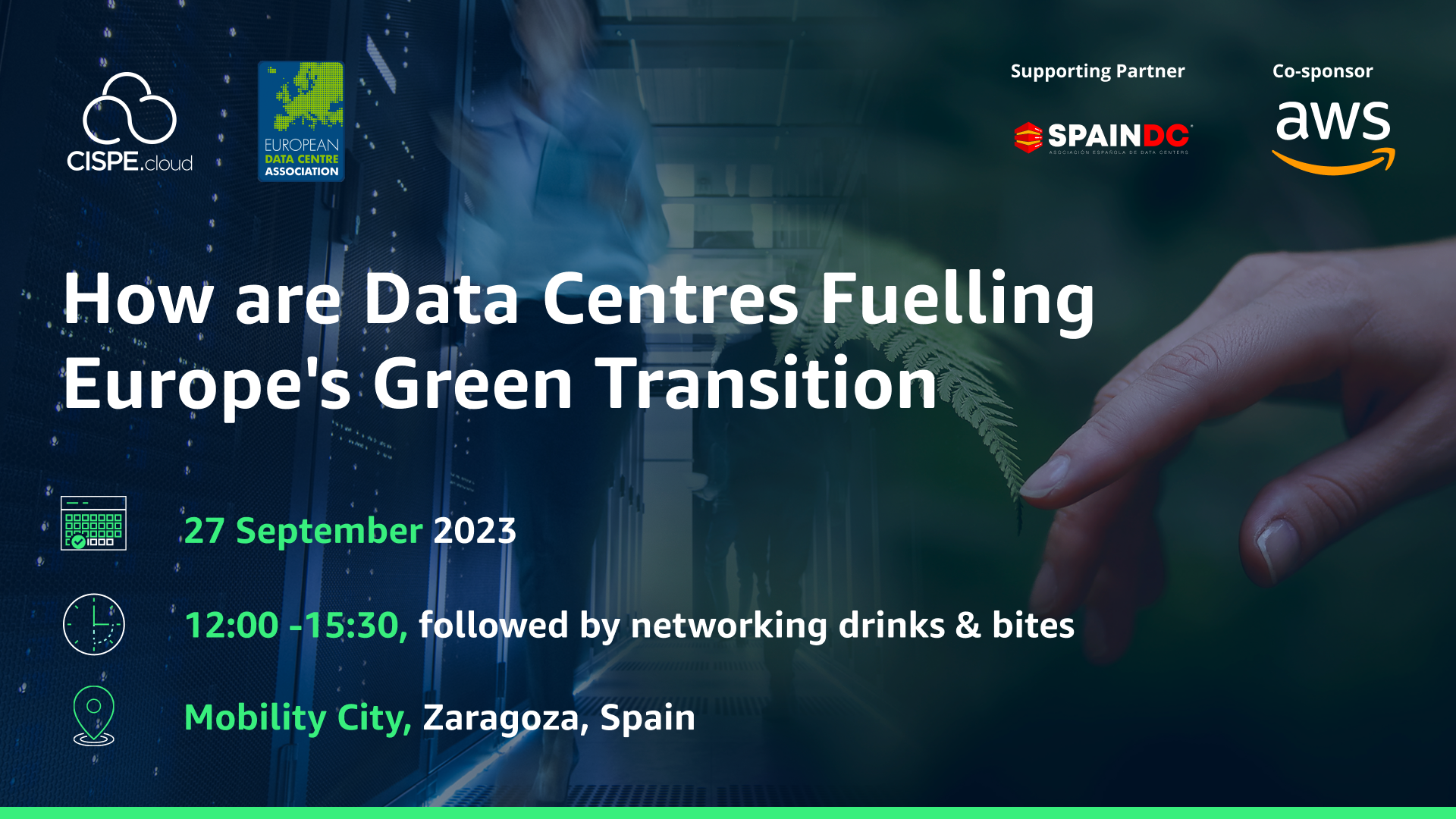 On 27 September, CISPE and EUDCA, in partnership with SpainDC are organising a conference on the vital role which data centres and cloud-enabled digital technologies can play in Europe's dual green and digital transformation.
Join us for an exclusive, high-level event in Spain, where we will delve into how cloud-based digital technologies contribute to Europe's efforts to decarbonise the EU's economy. We will also explore the nature of the data centre transparency regime, as delineated by the upcoming transposition of the EU's Energy Efficiency Directive.
Don't miss out on this opportunity to gain insights and network with like-minded professionals committed to a sustainable digital future. Register now to secure your spot!
Our expert speakers, from across European institutions, national representation and industry, will shed light on the opportunities for collaboration between the public and private sectors in driving the transition to a more sustainable digital and green economy. Data centres form the bedrock of Europe's ability to leverage artificial intelligence and machine learning technologies, whilst safeguarding its global competitiveness and climate leadership.
Among the speakers, we are happy to announce:
Jorge Azcón, President of the Government of Aragon
Nikolaos Kontinakis, Policy Officer, Energy Efficiency Unit, DG ENER, European Commission
Dr. Ron Lipka, German Ministry for Economic Affairs and Climate Action
Joseph Cummins, Irish Department of Enterprise, Trade and Employment
Pauline Fournols, Advisor – Energy & Environment, WindEurope
Manuel Gimenez, Executive Director, SPAIN DC
This event takes place at a pivotal moment, especially given the commitment of the Spanish Presidency of the Council of the EU to continue accelerating Europe's ambitions towards a climate neutral and digitally-enabled future of the European economy.
Register to attend
About CISPE
Cloud Infrastructure Services Providers in Europe (CISPE) is a non-profit association that focuses on developing greater understanding and promoting the use of cloud infrastructure services in Europe. Our members provide the fundamental infrastructure that allows European businesses and consumers to benefit from cloud services and applications. We are a founding member and current board member of GAIA-X and are deeply committed to developing European strategic autonomy, leadership and sustainability in its cloud infrastructure technologies.
About European Data Centre Association
The European Data Centre Association (EUDCA) has been representing the interests of the European data centre operator community since 2011. EUDCA acts as a platform for its operator and vendor members to become involved in political decision-making at the EU level. Our members are the backbone of the digital infrastructure, driving digitisation and electrification for a more sustainable future.
About SPAIN DC
SPAIN DC is the data centre association in Spain, the base of the digital economy. SPAIN DC connects the leading data centres in the market and high-quality providers in Spain with one mission: to strengthen economic growth and profile the data centre sector before the government, the media and society.
About Amazon Web Services
Amazon Web Services (AWS) is the world's most comprehensive and widely used cloud platform, offering more than 200 comprehensive data center services globally. Millions of customers—including the fastest-growing startups, largest enterprises, and leading government agencies—use AWS to lower costs, become more agile, and innovate faster. Its website is www.aws.amazon.com.